Our team at Premium Care believes strongly in the power of philanthropy to do good for others while enriching our own lives.  Dr. Campbell and Dr. Restrepo have long been active in international humanitarian organizations serving thousands of disadvantaged children in countries throughout the world.  Both have lived and worked overseas, and both are recognized authorities in global care of cleft lip and cleft palate.
We not only feel that service is an important part of our lives.  We have structured philanthropy into our practice as a vital component of our mission and central aspiration for success.  All team members at Premium Care Plastic Surgery participate in philanthropic activities both inside of Colombia and overseas, aiming to make an impact on the advancement of global health.
Operation Smile is a worldwide charity that has more than 30 years of experience providing more than 200,000 free reconstructive procedures in 60 countries for children born with facial deformities.  Along with its commitment to the surgical care for needy children, the organization has always concentrated on the education and development of future leaders and has established training programs for lifesaving skills, nursing education, resident education, and plastic surgery and anesthesia training in cleft care.  In recognition of its contributions, the organization has been awarded some of the most prestigious awards in humanitarian care.
Dr. Campbell and Dr. Restrepo have worked with Operation Smile for more than five years, and currently enjoy active involvement with Operation Smile International, Operation Smile India, and Operation Smile Colombia.

The Guwahati Comprehensive Cleft Care Center (GCCCC) was forged as a Center of Excellence where comprehensive and standardized cleft care is provided at one institution.  The result is a sustainable model with markedly improved efficiency and outcomes, and a new paradigm of cleft care in the developing world.  In its first year of service GCCCC provided free operations to 2,728 patients, and achieved a complication rate that is better than most others reported in the literature.  The center has also reached sustainability, with funding mechanisms that arise almost entirely from within India.  It is staffed by nearly 70 professionals, 91% of which are Indian, and is providing year round multidisciplinary and patient-centered care.
The Center now performs more than 250 operations and 600 clinical evaluations per month, and is staffed by 70 specialists in all aspects of care delivery.  To date, the Center has performed more than 5,000 free surgical procedures.  Under his direction, the facility has earned international esteem and recognition, resulting in formal partnerships with some of the most famous institutions in the world in pediatric plastic surgery.
The success of this public private partnership has defined a new model for excellence in health care in the developing world, and a blueprint for reproduction.
As Co-Medical Advisors and founding surgeons at the Guwahati Comprehensive Cleft Care Center (GC4) in India, Dr. Restrepo and Dr. Campbell played central roles in conception, organization, development, implementation, and oversight of all systems and programs at the Center.  They are thrilled to continue their involvement with this new paradigm of cleft care in the developing world.
Without a doubt, the most precious professional experience in our young careers has been our involvement with GC4.  We remember when we just arrived in Guwahati and went to see the 'Center.' With three employees and a concrete room at the time, we knew that we had a long, long way to go. We will always cherish the ride we took together to reach current heights. Over eighteen months in Guwahati, we had the immense privilege of working with some extraordinary individuals to create something very unique and very special.  Especially rewarding has been the opportunity to share knowledge and provide education to professionals and trainees at GC4, in order to increase the reach and impact of our mission of excellence in cleft care in the developing world.  GC4 is now one of the largest cleft centers in the world, staffed by an exceptional local team with a central focus on safety and quality. The Guwahati Comprehensive Cleft Care Center has raised the bar, and leaders from around the globe are recognizing GC4 as a successful model for surgical care in the developing world.
Performance Summary Alex Campbell, MD & Carolina Restrepo, MD

PANBAZAR · GUWAHATI · ASSAM 781001. · INDIA
(November, 2010 – February, 2012)
Oversight of construction and interior design of a state-of-the-art surgical facility, equipped with sophisticated monitoring, treatment, and telecommunications equipment for full-time multidisciplinary care:
● 6000 ft2 space at the Mahendra Mohan Choudhury Hospital in Guwahati, India.
● Six-table operating suite equipped with the latest advances in sterility, instrumentation, and technical capability.
● Six-bed recovery unit equipped with central gasses, advanced monitoring devices, and resuscitation equipment.
● Telemedicine facilities in operating suite, clinic, and conference room with worldwide video connection.
● Educational and training facilities including simulation equipment for courses in life saving skills and advanced life support.
● Clinical areas for plastic surgery, anesthesia, pediatrics, dentistry, orthodontics, speech therapy, and child-life.
● Administrative area and conference room.
CONCEPT, DESIGN, AND CONSTRUCTION OVERSIGHT OF A 32-BED INPATIENT WARD
● Preoperative and postoperative patient areas, including four monitored beds.
● Facilities for pediatric and adult patients, including a multimedia education and entertainment center.
● Central nursing station, pediatrician work area, storage, and supplies.
● Dedicated areas for nutrition and personal hygiene areas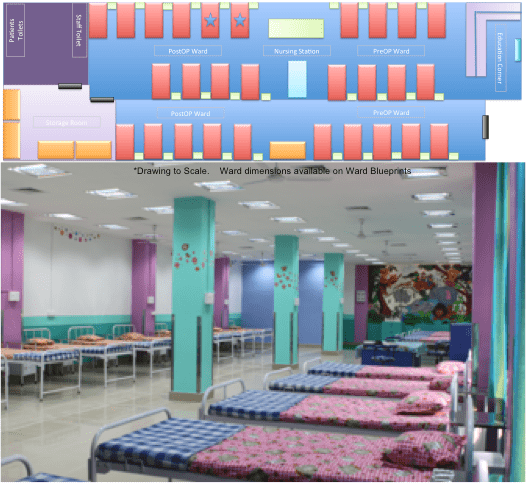 ORGANIZATION, RECRUITMENT, EXPANSION, AND MANAGEMENT OF MEDICAL AND ADMINISTRATIVE TEAMS, TOTALING 68 FULL-TIME EMPLOYEES. SUSTAINABILITY ACHIEVED WITHIN ONE YEAR: 91% STAFF INDIAN
● 6 Plastic Surgeons
● 1 Otolaryngologist
● 4 Anesthesiologists
● 3 Pediatricians
● 28 Nurses
● 2 Dentists
● 1 Speech Therapist
● 2 Child-Life Specialists
● 4 Clinical and Research Fellows
● 23 Administrative and accessory staff
○ Patient Care Team: 5
○ Patient Recruitment Team: 5
○ Administrative Staff: 4
○ Medical Records/ Photography: 5
○ Ancillary Staff: 5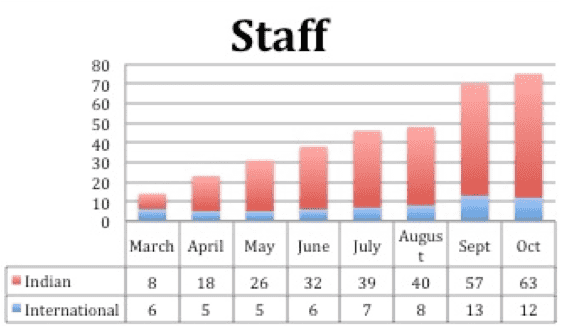 ORGANIZATION, DEVELOPMENT, IMPLEMENTATION, AND OVERSIGHT OF OPERATING ROOM STAFF, FACILITIES, SYSTEMS, AND PRACTICES
● 2179 operations performed in 1st year GC4 (Mar 2011-Feb 2012)
● 250 (+) operations per month
● 19.4% of all surgeries of Operation Smile International Worldwide
● Medical Oversight for 2688 Operations in Assam (Center + Mission)

ORGANIZATION, DEVELOPMENT, IMPLEMENTATION, AND OVERSIGHT OF ALL MEDICAL AND SURGICAL SERVICES RELATED TO PREOPERATIVE, PERIOPERATIVE, AND POSTOPERATIVE CARE OF PATIENTS.
Conception, Organization, and Formalization of Division of Research and Outcomes
● 10 International Research Fellows
● 21 Current Research Projects
● 7 Manuscripts Pending Submission for Publication
Conception, Organization, and Formalization of Operation Smile India Institutional Ethics Committee

MEDICAL RECORD REDESIGN AND ELECTRONIC MEDICAL RECORD DATABASE OVERSIGHT
CONCEPTION, DEVELOPMENT, IMPLEMENTATION PATIENT COUNSELOR OUTREACH PROGRAMS
● Novel program for linking services with communities featured USAID.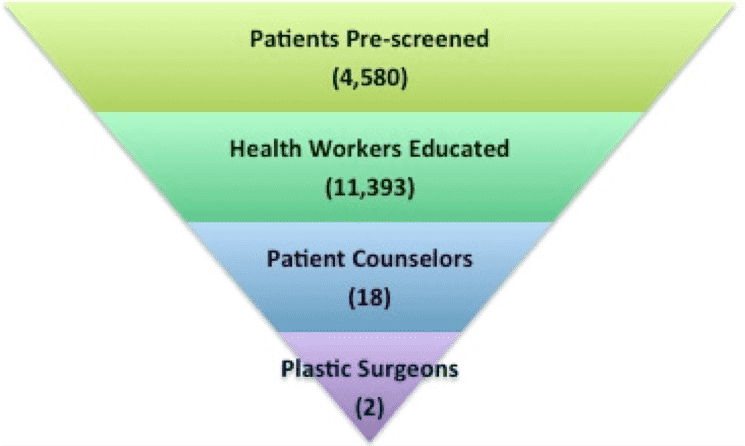 CONCEPTION, DEVELOPMENT, AND IMPLEMENTATION, AND OVERSIGHT OF PATIENT CATE
● Assistance of extremely impoverished patients from rural communities with transportation, food and shelter during their stay in Guwahati.
● 250 (+) Surgical Patients per Month
● 700 (+) Clinical Patient Visits per Month
CONCEPTION, MATERIAL DEVELOPMENT, IMPLEMENTATION, AND OVERSIGHT OF PREOPERATIVE AND POSTOPERATIVE PATIENT EDUCATION PROGRAMS
● Standardized Post Operative Protocols for Cleft Lip and Cleft Palate
● Nursing and Staff Education
● Patient Centered Education
○ Pictographic Instruction Sheets in English and Assamese
○ 90% Reduction in Complications
Conception, Development, and Implementation of Patient Follow Up Programs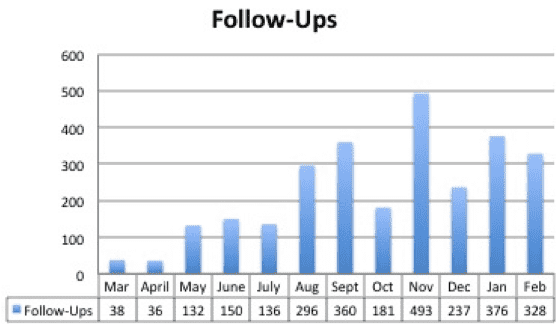 ● 2729 Follow Up Examinations
● 362 Patients seen in District Based Camps (DOFAST)
CONCEPTION, DEVELOPMENT, AND IMPLEMENTATION OF PATIENT NUTRITION PROGRAM
● 140 (+) malnourished patients enrolled into program.
● 20 (+) "graduates" have received successful surgeries.
● Partnership with Assam Department of Social Welfare
OVERSIGHT OF AMERICAN HEART ASSOCIATION TRAINING FOR PHYSICIANS, NURSES, AND STAFF
● 102 AHA Certifications earned by GC4 staff (63 BLS, 33 PALS, 6 ACLS)
MENTORING, TRAINING, AND OVERSIGHT, AND EVALUATION OF MORE THAN 25 CLEFT SURGEONS, TRAINEES, AND RESEARCHERS
Design, Implementation, and Tracking of Guwahati Quality Improvement Program
CONCEPTION, SCRIPTING, DESIGN, SHOOTING, AND EDITING OF GC4 VIDEOS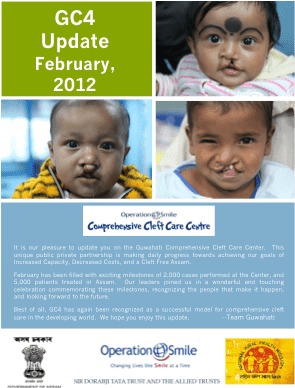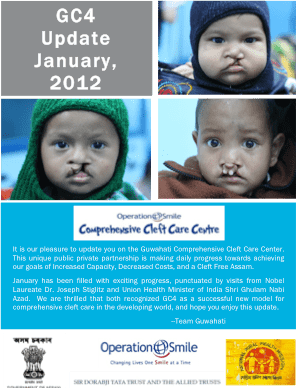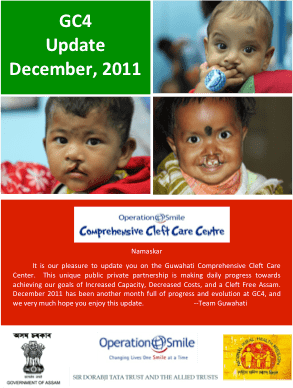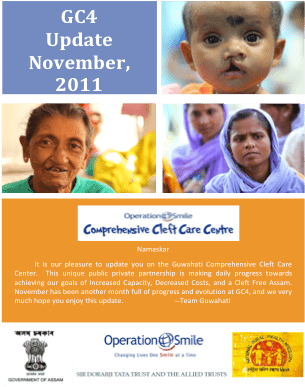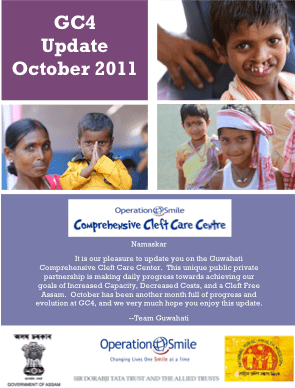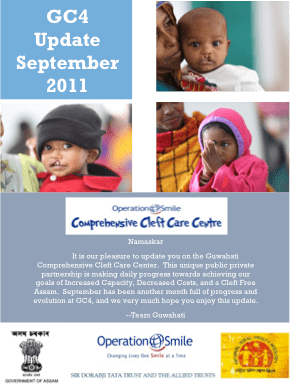 Team Guwahati February, 2012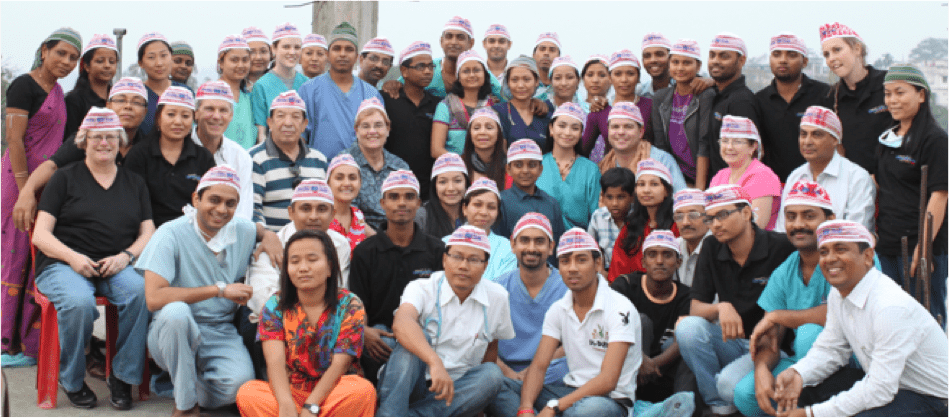 Dr. Campbell and Dr. Restrepo also continue their shared passion for charitable involvement for children and serve on the Medical Oversight Board of Operation Smile International, and as Medical Advisors to Operation Smile India and the Guwahati Comprehensive Cleft Care Center. Dr. Campbell and Dr. Restrepo also work closely with Operation Smile Colombia, as medical consultants and volunteers, and are focused on improving excellence in cleft care throughout Colombia and specifically along the Caribbean coast.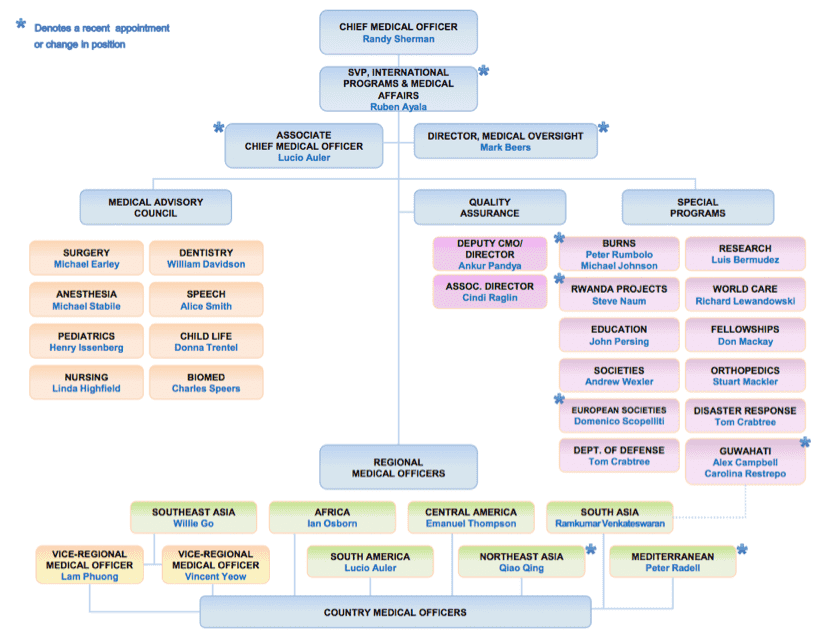 Looking Forward…
GC4 has accomplished remarkable achievements and is fast gaining recognition from the most respected authorities in cleft care. We are now working with our team and partners to refine our processes and expand our services in comprehensive care. Together, we must continue to build the systems, practices, and team members that will systematically come up with solutions for children born with cleft lip, cleft palate, and other facial deformities. Based on its conception and position, Guwahati has the opportunity mature into one of the finest global centers in cleft care delivery, and to redefine quality healthcare delivery in the developing world. We hope that it will serve as one of the globe's great success stories, and provide a blueprint for additional comprehensive centers within India and around the world. We see GC4 as beacon of hope, demonstrating that society's most pressing and hopeless challenges are indeed surmountable.
True happiness comes through helping others and making a positive impact on humanity, and the beauty of Operation Smile is that you always get more than you give
GC4 RECOGNITION
October, 2011
Editorial in the Journal of the American College of Surgeons describes GC4 as, "an example of sustainability progressing toward self-sufficiency."
January, 2011
Dr. Joseph Stiglitz, recipient of the Nobel Prize in Economic Sciences (2001) visited GC4 on January 10.  After reviewing the Center he commented that, "This serves as a successful model for surgical care in the developing world that can be reproduced in other places."
January, 2011
Shri Ghulam Nabi Azad, Union Health Minister and cabinet member of the Council of Ministers of India, visited GC4 on January 30.  Mr. Azad was impressed by its infrastructure, hi-tech surgical equipment, and trained manpower, calling GC4 a "Role model for India."
February, 2012
The Chief Minister of Assam, Shri Tarun Gogoi, and the Minister of Health and Family Welfare, Dr. Hemanta Biswa Sarma praised GC4 as a "tremendous success" that "motivates us to achieve greatness in providing medical care and treatment for the poor and needy segments of society, which is the model of our government."
July, 2012
Editorial in the Plastic and Reconstructive Surgery features GC4 as,   "A permanent, year-round, high-volume, dedicated cleft facility with a robust screening process and long-term, adequate follow-up that taken together can improve surgical outcomes. This model could prove to be a paradigm shift in how plastic surgeons will repair clefts as they endeavor to decrease the global surgical burden of disease."
October, 2012
Dr. Campbell and Dr Restrepo present GC4 as the subject of their keynote address, Comprehensive Cleft Care in the Developing World: A Reproducible Model for Excellence and Sustainability, to the American Association of Pediatric Plastic Surgeons at the  2010 Annual Meeting of the American Society of Plastic Surgery (ASPS) in  New Orleans, Louisiana (USA).
FACES OF TRANSFORMATION©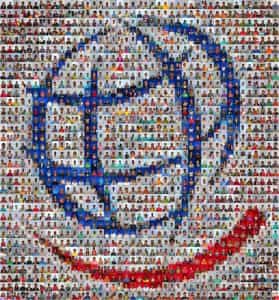 Faces of Transformation (2011) is a mosaic of the Operation Smile logo, composed of 1462 unique photos of patients, families, staff members, and volunteers in the state of Assam in Northeast India.  Inspired by diverse people working together towards a common vision, these images were shot and compiled by Dr. Alex Campbell and Dr. Carolina Restrepo López, while serving as founding plastic surgeons of the Guwahati Comprehensive Cleft Care Center and working with Team Guwahati for a cleft-free Assam.
GLOBAL SURGICAL ARTS
Global Surgical Arts™ is a think tank and consulting firm, comprised of dedicated professional leaders from around the globe.  The organization works to develop innovative solutions to reduce the burden of surgical disease worldwide.  Global Surgical Arts™ utilizes a Needs Based Approach™ to research problems, define challenges, create solutions, implement change, and analyze progress.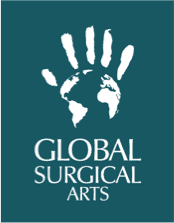 Global Surgical Arts™ was cofounded in 2012 by Dr. Campbell and Dr. Restrepo and is based in Cartagena, Colombia.
Dr. Campbell and Dr. Restrepo are the authors of the Cleft Surgery Training Program available at www.cleftacademy.com, the largest online resource for the step by step instruction on the treatment of cleft lip and cleft palate in underserved areas.